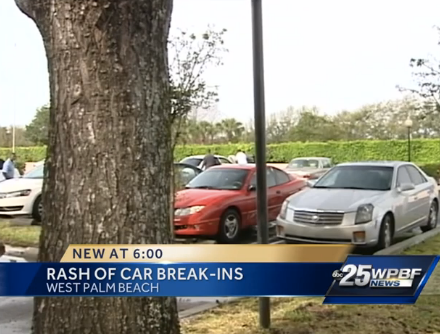 A neighborhood in Palm Beach, Florida had a rude awakening on the morning of Friday, March 25th. More than a dozen vehicles were burglarized leaving shards of glass strewn in the street and neighbors uneasy about the recent invasive crimes. It happened overnight Friday at the Presidential Golfview Condominiums, on North Congress Avenue. Police haven't arrested anyone in connection with these crimes yet plan on continuing patrols in the area.
Some residents have elected to secure their surroundings by installing alarm systems in the cars and securing their homes door locks and windows. Many have hired professional locksmiths to secure their home surroundings ensuring they won't be susceptible to criminal break-ins. It's crucial that residents secure the locks on doors and windows and make sure they are locked during the day and night. Another thing residents are doing is installing home cameras inside and outside of their homes. The footage from these videos can help law enforcement later identify individuals involved in the crimes.
If you think that your neighborhood is at risk for crimes of this nature, visit US Locksmith at www.us-locksmith.com for information on how to prevent these attacks.
This post doesn't reflect any of West Palm Beach locksmiths views.