You would think wanted people would do their best to hide rather then connect to people, but turns out not all people would agree. Florida police has arrested a man after he changed his Facebook profile picture to a wanted poster where he's wanted for felony warrant for violation of probation.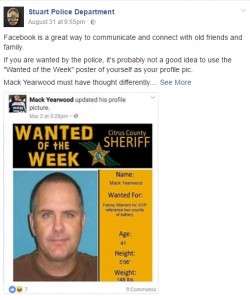 When the man, Mack Yearwood, posted the photo his friends commented, some in shock, some thinking it was funny. "Holy sh**", wrote one, and another asked: "this isn't real, is it?". Others though, wrote "nice mug shot!", to which Mr. Yearwood replied: "thanks buddy!".
So when the police was looking for Mr. Yearwood all they had to do is to look him up on FB, get some info from his page – and go arrest him, and so they did.
"If you are wanted by the police, it's probably not a good idea to use the 'Wanted of the Week' poster of yourself as your profile pic" wrote the Stuart, Florida police on the FB Page. We couldn't agree more.
This post doesn't reflect any of Plantation locksmiths views, and is just for entertainment value.