They were in Rio, they gave their best while representing the U.S, and now they're back home, in Homestead and Miami, with Olympic medals. They fill us with pride.
On Tuesday the first Olympic champion arrived – Ashleigh Johnson, a water polo goalie, returned to her home in Miami. The young athlete has won, together with her team, a gold medal, after beating the Chinese team in the final. Happy Johnson is now going back to school. We're wishing Johnson to do well in Princeton as well as she did in Rio!
Olympic gymnast Danell Leyva of  Homestead returned yesterday with two silver medals, which he won for his performances on the horizontal bar and the parallel bars. Levya seemed almost shy when found the dozens of fans waiting to welcome him back home when he landed in Miami, and admitted he didn't expect this, he thought only his family and girlfriend will be waiting for him. How adorable can one be 🙂
When asked about his plans, Leyva said he doesn't know yet about Tokyo 2020, but he is considering trying a career in Hollywood, CA, in the next few years. Very glamorous!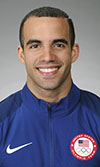 Both champions were greeted by many young fans, which hopefully will be inspired by the determination and the sports spirit of these two Floridians!
This post doesn't reflect any of Locksmith Homestead views, and is just for entertainment value