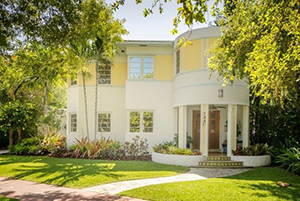 One of Miami Beach's main attractions is it's architecture. With the energy of the sun and colors to rival a rainbow, Miami Beach architecture is one of a kind. You don't have to be an architect to appreciate the city's Art Deco and Miami Modern sensibility. Real and curvy, most buildings are in condition that would make their original architects proud. Miami has the largest number of deco buildings in the world, so for many, the deco architecture is a draw for tourism. It is part of the cultural makeup of Miami and a living testament to its rich history. The vintage homes of yesteryear add to the personality that is so uniquely Miami Beach – unfortunately this history is being threatened by new eyesore houses and vacant mosquito infested lots.

Fortunately, three Miami Beach commissioners want to create exemptions in their city's ethics ordinance that will enable more architects and landscapers to sit on municipal committees – exemptions that will have to be approved by Miami Beach voters. On Wednesday, commissioners, sitting as the Land Use and Development Committee, will require all single-family home plans to be reviewed by the Design Review Board or another architectural board prior to demolition work. Right now, only homes located in historic districts or homes built prior to 1942 are reviewed. Currently the board's agenda is already dominated by applications from homeowners and developers who wish to replace their pre-1942 homes with something else, or, at least, alter them. As a solution, an architectural review panel has been explored which would be made up of professional architects, in which house plans are quickly and efficiently reviewed by city staff. But for that to happen, committee members felt they need to enable more architects and landscapers to sit on boards.

With efficient monitoring of new developments in the Miami Beach area, the cultural significance of Miami's deco past can be preserved and continued for future generations.
This post doesn't reflect any of Miami Beach locksmiths views, and is just for entertainment value.